Nov11
Comments Off on Done with Hexavalent Chromium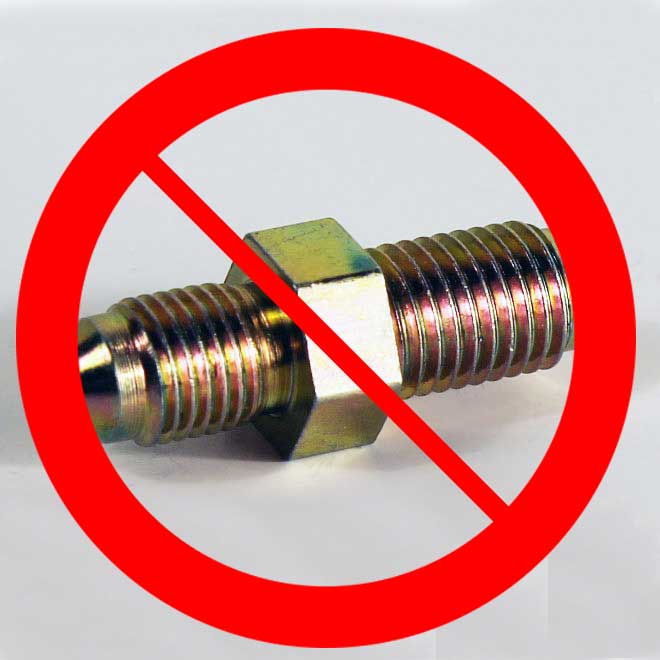 If you have ever worked on the brake system of an old car chances are you've seen Hexavalent Chromium or Cr(VI). Introduced as a cheap alternative to zinc it provided a nice protective barrier for exposed connections. You can tell them because they are gold in color. Even today if you visit your local auto parts store you'll find a lot of older stock that uses hexavalent chromium.
A Block Buster Movie
The dirty secret is that the process of plating items with Cr(VI) is known to cause cancer and is horrible for the environment. You may remember Erin Brockovich the true story of a legal clerk fighting for the environment (it won academy award for best actress).
We are Done With Hexavalent Chromium
Our main supplier switched plating to the better Trivalent Chromium (not perfect but significantly better for the environment and easier to avoid contamination) years ago but we still receive a handful of parts from them with the old Hexavalent plating.
So we've decided to drop several products with the old platting. We are sorry for any inconvenience this may cause our customers but we believe that in 2014 it's important to make changes for the future.
Discontinued Products
Currently the following products are discontinued:
BQ85 – M20 x 1.5 Bulkhead Nut
BQ86 – M18 x 1.5 Bulkhead Nut
BQ87 – M16 x 1.5 Bulkhead Nut
BQ88 – M14 x 1.5 Bulkhead Nut
BQ113 – 5/8 x 18NF Female Tube Joiner
BQ128 – M10 x 1.25 No3 JIC Adapter
BQ130 – M10 x 1.5 No3 JIC Adapter
BQ152 – M10 x 10mm Double Banjo Adapter
Fuel Line Kit
The biggest impacted product is our fuel line repair and replacement kit. We have discussed with our supplier and unfortunately this product is sourced from various places and our request to eliminate any Hexavalent plated parts cannot be fulfilled. Unfortunately this means that we must discontinue this kit in it's entirety. If you have purchased a fuel line repair kit and need replenishment contact us and we can put you in touch directly with someone who can help you.