Feb20
Comments Off on Top 3 Reasons not to use Brake Line Compression Fittings

Normally I would start out with an interesting story. Today I will just cut to the chase. Do not use a compression fitting on your brake system. When you are on the road not only your safety but the safety of others is at risk if you have a compromised brake system. When you press your brake pedal the PSI (pounds per square inch) exerted on your brake system is great often over 1,000 PSI in normal braking.
The brakes on a vehicle deliver a critical safety feature and every driver is obligated to ensure the brake system operates properly. Even though only 5 percent of accidents in the United States are attributed to brake failure, the possibility exists, especially when someone performs faulty repairs. Brake line compression fittings are a controversial repair component and can lead to failure in the brake system.
How Does the Brake System Work?
To understand why brake line compression fittings are a poor choice for repair, understanding how the braking system works is paramount. The brake system is responsible for stopping a vehicle by apply pressure to the wheels. The most common assembly in vehicles today includes five main components: brake pedal, push rod, master cylinder assembly, brake caliper and hydraulic lines. In addition, the braking system includes brake fluid.
The brake pedal, also called a lever, is contained inside the vehicle and is used by the driver to begin the braking process. The pushrod, or actuating rod, engages with the pistons in the master cylinder assembly. The brake fluid is designed to experience little or no compression which translates into a rise in pressure throughout the entire system. This pressure equalizes through the hydraulic lines causing the pistons to place pressure on the brake pads. The rotor–a component connected to the wheels–begins to receive increasing pressure from the brake pads and lessens the speed with which the wheels turn.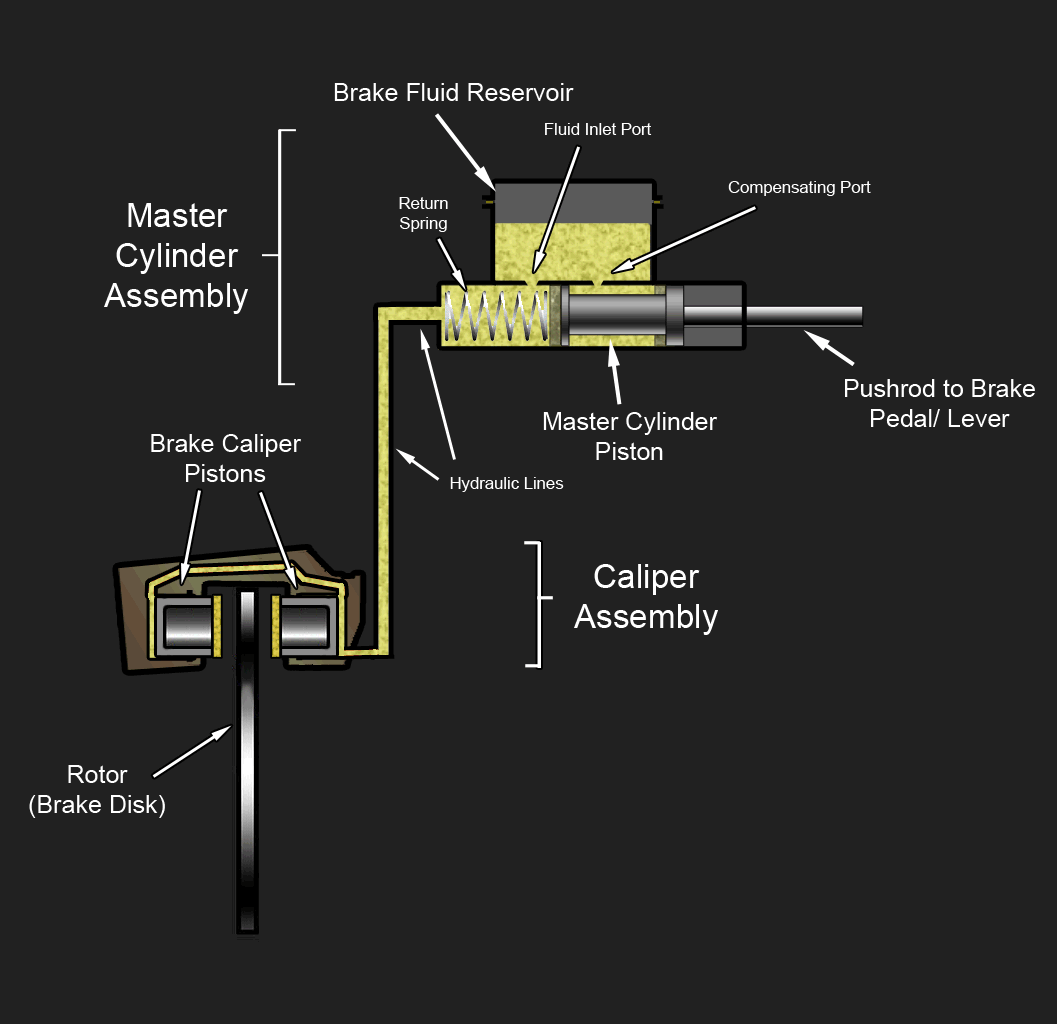 It is important to know that the braking system is considered "closed," which means that fluid does not escape the system or evaporate over time.
The Top Three Reasons to Avoid Brake Line Compression Fittings
Compression fittings can leak at high temperatures
Compression fittings do not provide a solid structural connection
Compression fittings are against the law in many states
Repairing Brake Lines
Over time, your brake lines will wear down. Hard lines–made of metal–rust and rubber lines might crack or show other symptoms of stress. Once this occurs, you are faced with the decision to repair or replace the lines.
Repairing the hard lines is not recommended as the entire line needs to be replaced. This process can be difficult but it's necessary for the safety of your vehicle. You can make it an easier job by using an easy to work with material such as our copper nickel brake tube or you can make it cheaper by buying regular steel or bundy tube line.
Brake Line Compression Fittings
Replacing your brake lines can cost several hundred dollars, at minimum, which can create a strain on your budget. Consequently, many people choose to use temporary replacement techniques to manage car repair hurdles. For example, some people choose to use a rear view mirror kit to attach a separated rear view mirror. While the rear view mirror is an important component of driving, it doesn't influence how fast a car move, or its stopping ability, which makes it an ideal candidate for patch or repair jobs. Your brake system makes a significant difference in how safely you travel and using patch jobs to repair the system could lead to disaster.
Despite this, many people choose to try brake line compression fittings for line repairs. Compression fittings are used to join two pieces of brake line together. This form of repair is common because of the idea that the fitting prevents leakage. The compression fitting is comprised of a nut and a ferrule. When placed on a brake line, the fitting creates a tightened joint.
Unfortunately, using brake line compression fittings presents multiple problems. Because your brake system creates a substantial amount of pressure, the compression fittings are prone to failure. In addition, compression fittings are known to leak when used on brake lines, causing a loss in brake fluid, and ultimately failure of the braking system.
You cannot, under any circumstances, use compression fittings to repair the lines on a public transportation vehicle. Many states have banned the use of this repair on passenger vehicles, too. In addition, you might find that compression fittings will cause your vehicle to fail inspection.
You can, however, use this form of repair for vehicles that do not travel on public roads and highways or at a high rate of speed. For example, a ride-on lawn mower or all-terrain vehicle used for off-roading can accept brake line compression fittings.
You can also use compression fittings for temporary repairs. Temporary repairs might include those that are performed on a vehicle undergoing restoration. For example, if you need to check a vehicle's ability to accelerate, compression fittings would work well for a closed environment.
The Best Approach to Resolve Brake Line Failures
While several components on your vehicle might benefit from temporary or patch repairs, your brakes aren't one of them. Most professionals recommend that you simply replace the brake lines if you run into trouble. At minimum, you will need the brake lines, brake fluid and open-ended wrenches to complete the replacement. If you plan to complete the repairs, consider inspecting the entire system to determine if you should replace other components, such as calipers, pads or rotors. In addition, consider replacing the unaffected line, just in case it has undergone similar wear and tear. Handling everything at once will ensure that you do not run into problems immediately after your replacement.
Safety and law are important components of being a responsible driver. One of the most important reasons to avoid brake line compression fittings is their tendency to crack under extreme pressure, which will inevitably lead to brake system failure. Second, the law in your state might prohibit the use of these fittings for brake line repair. Consequently, passing vehicle inspections will present a challenge. Finally, replacing your brake lines will provide the best return on investment, even if it costs more than performing a repair.
Brake line compression fittings work well under certain circumstances. If the vehicle is for off-road usage or undergoing a restoration, you can use the fittings for temporary repairs. Using the fittings for public transportation vehicles or those that use public highways and roads is against the law in many states and a bad idea. Keep in mind that while the fittings offer an inexpensive alternative, they are not a long-term solution, and an accident will cost much more, financially and morally, in the long run.